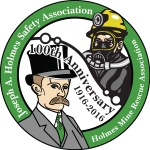 The 2016 Joint National Meeting and Training Seminar of the Joseph A. Holmes Safety Association and the Holmes Mine Rescue Association will be in Branson MO on June 28-30, 2015 at the Radisson Hotel Branson. Events will include a 100th anniversary celebration of the Association's founding in 1916. A special hotel rate of $93.75 is available by calling Ms. Lesley Davis, Branson Tourism Center Group Sales Manager at 800-268-4014 and mention "JAHSA". This rate must be booked by 5/11/2016. Conference session topics will include:
Contractor Safety
Mine Rescue and Recovery
Task Training for Competent Persons
New Mine Rescue Technology
New Health and Safety Technology
Supervisor Responsibilities
Mine Emergency Planning
Developing Annual Refresher Training
Electrical
Refuge Alternatives
Workplace Examinations
Mine Emergency Breathing Apparatus and SCSRs
Confined Spaces
Surface Haulage
We use PayPal as our payment processor. Please continue to the end of the registration screens to reach the payment form. You may then pay with a credit or debit card even if you do not have a PayPal account. You may also pay from your PayPal account if you have one.